#casheslockdownchallenge
Mr Barnard started the idea of children coming up with challenges for the teachers to complete during lockdown to raise money for the NHS. We have had amazing support from all of our Cashes families already and hope that you've enjoyed seeing our faces, smiles, moves and screams! Read all about how he came up with the idea on his Sport and Wellbeing page.
Here is the ever growing collection of videos - they've all been on Facebook as that's the quickest way to reach lots of you but we hope that our children can enjoy them from here and that we can also reach those non-Facebook users. This page will be updated as soon as possible after a Facebook post each time a new challenge is completed.
Mr Barnard set himself the challenge of running to work for his day at school...8 miles and up a big hill, to arrive before 8am. 5 weeks of sunshine and it was the first day of pouring rain! He did it and plans to run every week too!
Tia in Reception challenged any teacher with trampolines to match her 2.6 challenge of 26 bounces every day for a week. Mrs Eeley and Mrs Hall took on the challenge! Jump around...
Mya in Year 3 challenged Miss Grace and Mrs Folley to sing and dance to Frozen! Beautiful ladies!
Mr Barnard pretended a child had challenged Mr Atkinson to shave his head...but admitted it was his suggestion when Facebook was mentioned! I think you'll agree Mrs Mills did a brilliant job!
Amy in Y5 challenged Mrs Dawson to TikTok - it's almost like someone knew how she had been spending her time at home with her children! Here are two special routines for you all. Super dancing Mrs Dawson!
Amy also challenged Miss Jordan to drink a disgusting smoothie - Miss Jordan says most smoothies are disgusting so she bought the nastiest one she could find. Delicious!
Kai in Year 6 issued the Ice Bucket Challenge and Mrs Marsh took it on! Eeeeeeek! Hope you've warmed up Mrs Marsh!
Never one to miss out, Mr Atkinson also took on the challenge. That looked COLD Mr Atkinson!
Effie in Year 6 and Freddie in Year 3 challenged Mr Barnard to do his shift at school wearing a Cainscross rugby shirt! As a Painswick player this was particularly painful but it's all for a good cause and Mr Barnard did it with a smile on his face all day!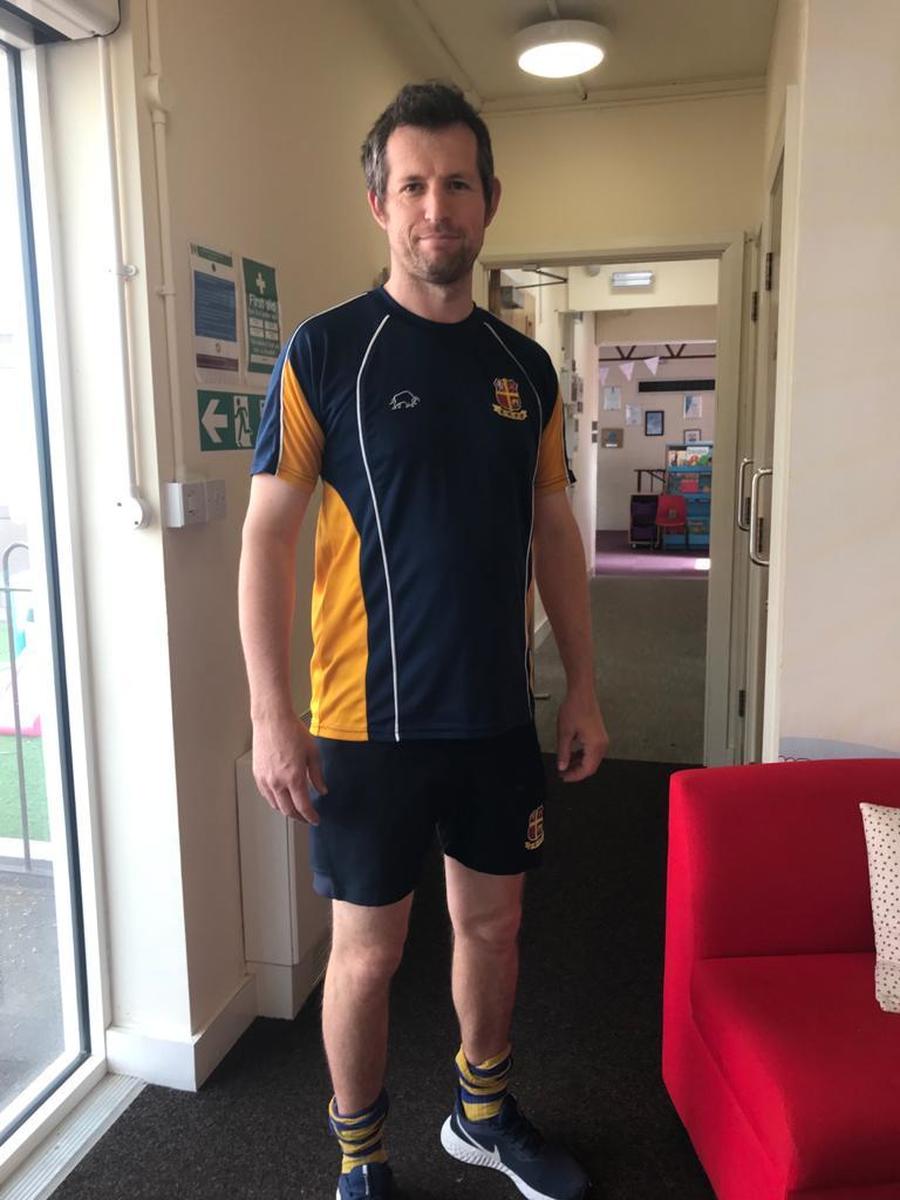 Mrs Mills's son challenged Miss Bliss to eat a whole tin of beans, cold! Well done - they looked really yummy! Just out of interest Miss Bliss, what is the worst thing you have ever eaten?!
Scarlett in Year 4 and Beatrice in Year 5 had their challenges combined - Mrs Dawson completed an obstacle course and a netball shoot-out - and she didn't fall over! Well done Mrs Dawson!
Gracie D in year 5 challenged Miss Jordan to shoot some netball hoops.- this was a challenge Miss Jordan enjoyed.
Louis in Year 1 was kind to Mrs Folley and set her a challenge of drawing a fairy. Mrs Folley had lots of fun doing this one - check out her effort below.
Mr Tanner, our Atlas Sports Coach, was enjoying our challenges so much that he asked if he could be part of it! So Mr Barnard asked him to do a 1 minute headstand. If you have more challenges for Mr Tanner please send them in.
After challenging Mr Atkinson to shave his head, Mr Barnard was asked to shave his head by the William's family. Luckily for Mr Barnard Fletcher also challenged him to grow a Mohawk. Mr Barnard decided to keep some of his hair! Check out the video below.
Miss Jordan had a very difficult challenge by Monnaf in her class. She has been asked to take down anything to do with Anthony Joshua (those of you who have been in Miss Jordan's class will know how difficult that will be for her)!
Mrs Dawson has finished her week long challenge from Conner in reception. She had to do 10 press ups and 10 burpees every day! She is definitely feeling fitter after this one!
Mrs Dawson has had lots of challenges this week, her latest was from Annie in year 4 and she had to die her hair pink. Mr Barnard and Mrs Hall decided to get in on the act as well!
Zac in year 2 challenged the teachers to do a sporting challenge. We had to do 5 burpees, 5 catches and eat a rich tea biscuit. Check out our efforts below.
Miss Bliss was challenged to dye her hair red by Kenton and Kohan, hope you like her new look!
Mrs Mosses has challenged herself to make some scrubs for the NHS. She has been super busy over the last few weeks!
Riley in Year One challenged the teachers to get a biscuit in their mouth and eat it without using their hands! Check out the different methods below - I think Mrs Hall is the winner!
Louis in Year One challenged Mrs Hall to run 100 laps of the field! Mrs Hall did it all in one day and tracked it on her phone, she ran over 9 miles! Incredible effort Mrs Hall, well done.
Finlay C in Year 6 challenged Mr Barnard to run a marathon. Mr Barnard has ran to school twice (15 miles) and he has ran in his garden and out with the dog for 6 days (12 miles) to complete the Marathon. He also joined Mrs Hall and did a few laps at school. He was out done by Mrs Legg though who has walked over 30 miles in the last week!
Annabelle in Year 5 is completing her own challenge for charity hula hooping. She challenged any teacher to take on the hula hoop challenge. Mrs Mosses accepted the challenge.
Scarlett in Year 4 challenged Mr Barnard and Mr Atkinson to dress up in their favourite Elf costumes and complete a slip and slide on the field. This was definitely their favourite challenge to complete!
Logan in Year 4 challenged Mr Atkinson and Mr Barnard to complete 10 bottle flips each. Unfortunately being rubbish at bottle flips they decided to do it in their own unique way!
The final challenge was for all the teachers from Tracie from playgroup. It was to complete the Sally Up challenge. We think we gave it a pretty good go.
Grown-ups, how can you support us?

1. Follow the school page on Facebook - like and share our posts
2. Get your children to suggest challenges for their teachers. Email ideas to Mr Barnard.
3. Give a little if you can.