Year 1
Mrs Folley has a special message for all the classes she teaches...click here to read it and see the challenge she has set for you.
Don't forget there are ideas for activities on each of the subject pages too. All the links are on the home page.
The general information about home learning page has been updated too so please have a read.
If you have any photos of your VE DAY 75 Celebrations please email them to Mrs Eeley for inclusion in a gallery on the page.
There is a special lockdown challenge for all children and staff on the #casheslockdownchallenge page - please take a look.
It would be wonderful if everyone can join in.
Wednesday 20th May
Hi Year One,
How are you all? I hope you are all keeping busy and enjoying the sunshine. Thank you everybody that has been in touch this week, it has been lovely to hear from you and see what everyone has been up to and not just with the activities from the website.
It has been another quiet week in my house too. My boys have been busy with their school work. Josh has been busy building model bird houses, he has to try and find out which will be the best design and why before he makes it for real. I wonder if Percy would like any of them to put in the big oak tree.
We have also tried to make our own pizza but I think we might have put too much yeast in it as it just kept getting bigger and bigger in the oven. It was delicious though and didn't last long.
This week is Mental Awareness Week, Mr Barnard has put some activities on the Well Being page for you to have a go at.
This week activities:
English – this week we would have been finishing our work on Percy the Park Keeper. I thought it would be nice to make a map of his park. You can just draw it, you can get creative and use any craft materials you might have at home. You could even make a model map using toys and things you have at home and take a photo of it. It's upto you. Could you make some signs and labels to go with it? Really use your imagination.
Can you remember the words I sent home in the learning packs right at the beginning of you learning from home? The handwriting ones. Let's keep practising them, can you test your grown ups? Write them in lots of different colours? Write each letter in a different colour? If you have a small paintbrush you could paint them in water outside? Or chalk them? Use whatever you have at home.
I have put a list of them underneath just in case they have got lost. Also don't forget the daily phonics lessons if you want to practise your sounds.
Maths – this week I thought we might have a bit of fun. See how many sweets/ coins/ pencils (whatever you can find) you can pick up with one hand. Then challenge somebody else to do the same. Then try and answer the following questions.
Who could hold the most? Who can hold the least? Can you put the numbers in order?
Take the smallest number away from the biggest number.
Add the 2 numbers together.
Don't forget to look on the maths page and there are daily maths lessons on BBC Bitesize which are really good.
Wednesday 13th May
Hi Year One, I hope you are all ok and having fun. What have you been up this week? I know some of you have been very busy looking at the photos you have sent me. I am glad you are enjoying the different activities on the website. Here is some of the photos I have been sent.
We have had a quiet week, my boys have been busy helping me in the garden and doing their school work. We are enjoying playing lots of board games in the evening and at the minute I am the Connect 4 champion. Matt's school set him a challenge of drawing a picture of himself with his eyes closed so we all decided to have a go. Can you guess which one is mine?
Maybe you could have a try too, but don't draw on the table like we did. If you do have a go send me some photos and we can have play guess who next week.
This week's activities
English/Science – At the end of our class story Percy had an acorn to plant to grow a new tree. Can you draw and label the life cycle of a tree? These words should help you get the different stages – seed, sapling, blossom and tree. You could write about what happens as a tree grows.
Maths – Can you go on a shape hunt in your house? Can you find something that is a square, rectangle, circle, semi-circle, triangle and hexagon? Then think about 3D shapes, can you find a cube, a cuboid, a cone and a pyramid. You can draw and label them or take photos.
Parents: Mr Barnard has asked us to mention that from this week the White Rose worksheets are no longer free. Mr Barnard is going to upload an activity on the Maths page every week so make sure you take a look there too!
Wednesday 6th May
Hello Year One, I hope you have had a good week and enjoyed the different activities from the website. I have had a really quiet week and not done much, although I did have a go at the teachers baking challenge. It was a bit tricky as I couldn't get any flour for baking a cake!
I have been keeping busy reading your emails and looking at all your hard work. Well done everyone. I know a lot of you are missing your friends so hopefully this will make you smile.
Let's think about this week's activities
Percy the Park Keeper – can you design a new home for one of the animals in the story? Think about what the animal will need and what they would like. You can be as imaginative as you like, spike protectors for the hedgehog, somewhere for the squirrel to hide their nuts or even a landing pad for the owl. Draw your design and label and describe it. Don't forget to use your phonics mat I sent home, I hope you are still practising your sounds.
(There is a daily phonics lesson – ask your grown up to look on the phonics page)
In maths can you pick numbers between 20 and 50 (100 if you want a challenge) and think about how to show me how to split into 10s and 1s. We started this in class but could do with practising.

You can write the number and then draw it like below or you can use things in your house to show the number.

If this is too tricky use numbers up to 20 or 30.
Wednesday 29th April
Hi Year One, hope you are all ok and having fun. I am missing you loads but lots of you have sent me pictures and emails showing me what you have been up to. Thank you, they make me smile. If you want you can save all of your wonderful work and I will have a look at it when we are back at school. You have all been so busy!
I have had a very busy and exciting week:
I have found out I have 2 big hedgehogs in my garden. They keep coming and visiting us every night, my poor cats, Bonnie and Clyde are not so sure about them though. I think if I put any food out for them the cats will eat it first!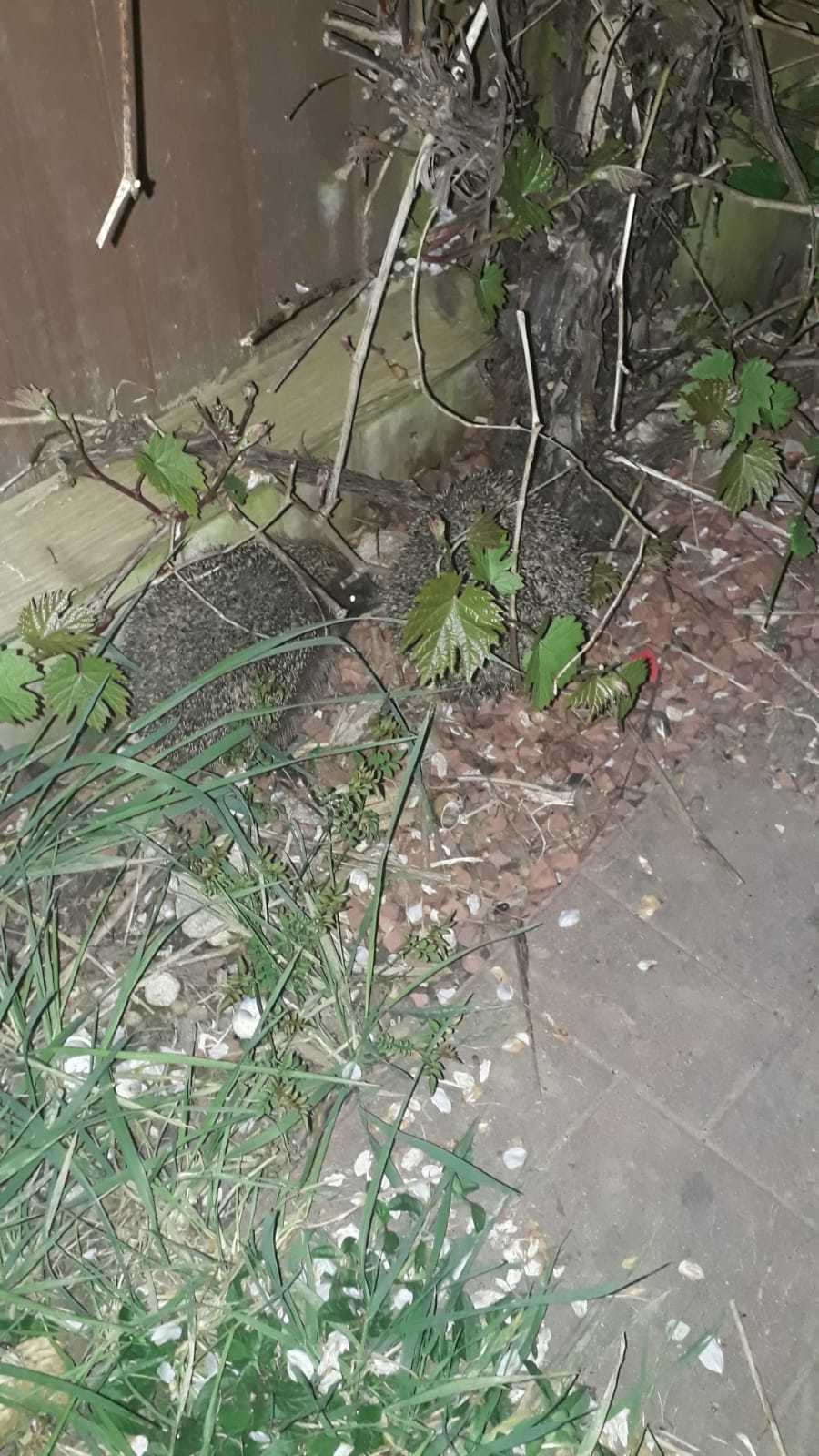 I know some of you have had birthdays recently and we had one too this weekend, Matthew was 14 so we spent the day eating lots of cake and talking to our family on the computer. Do you like the present I made him as a joke as he always likes so much tomato ketchup.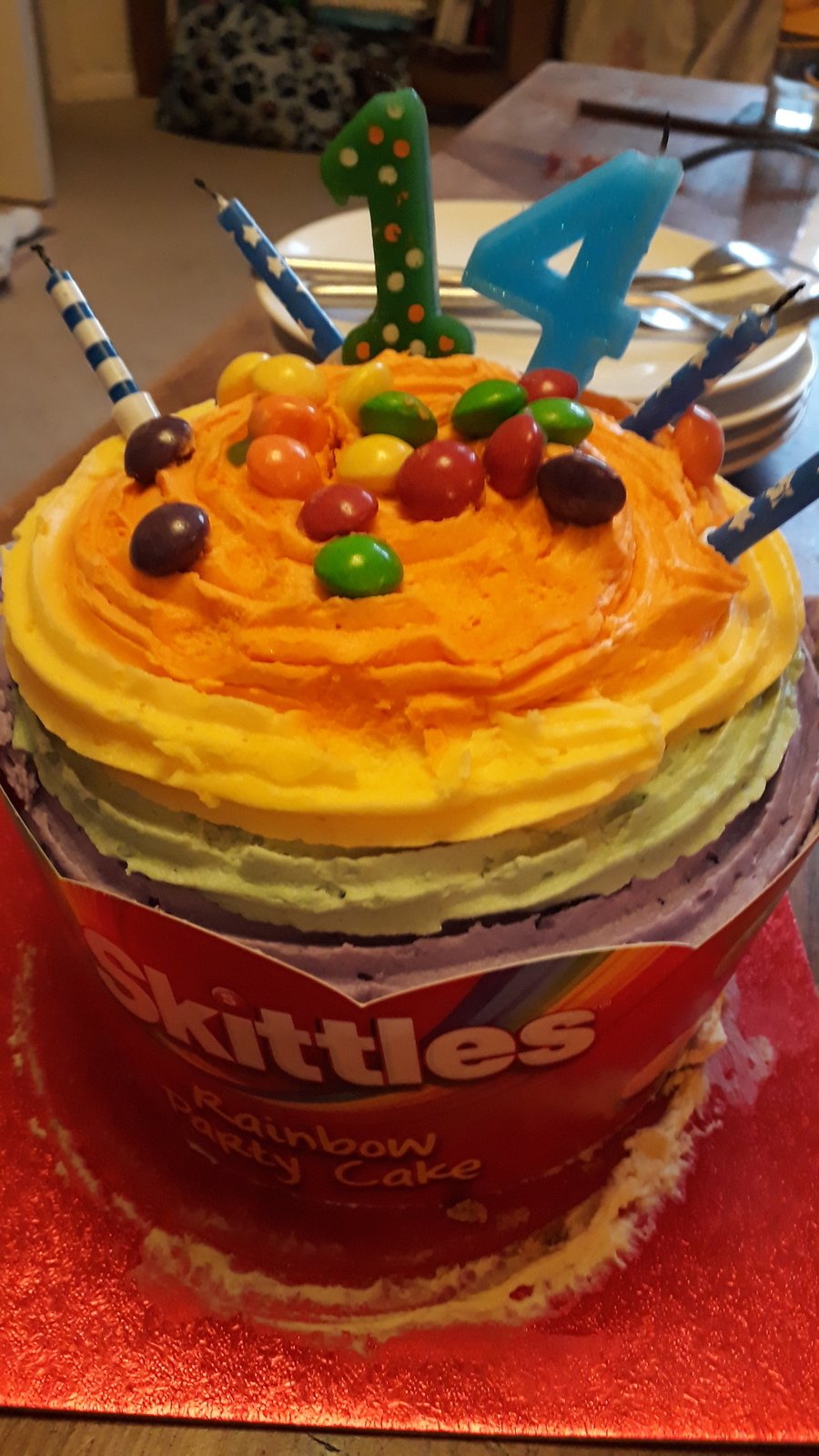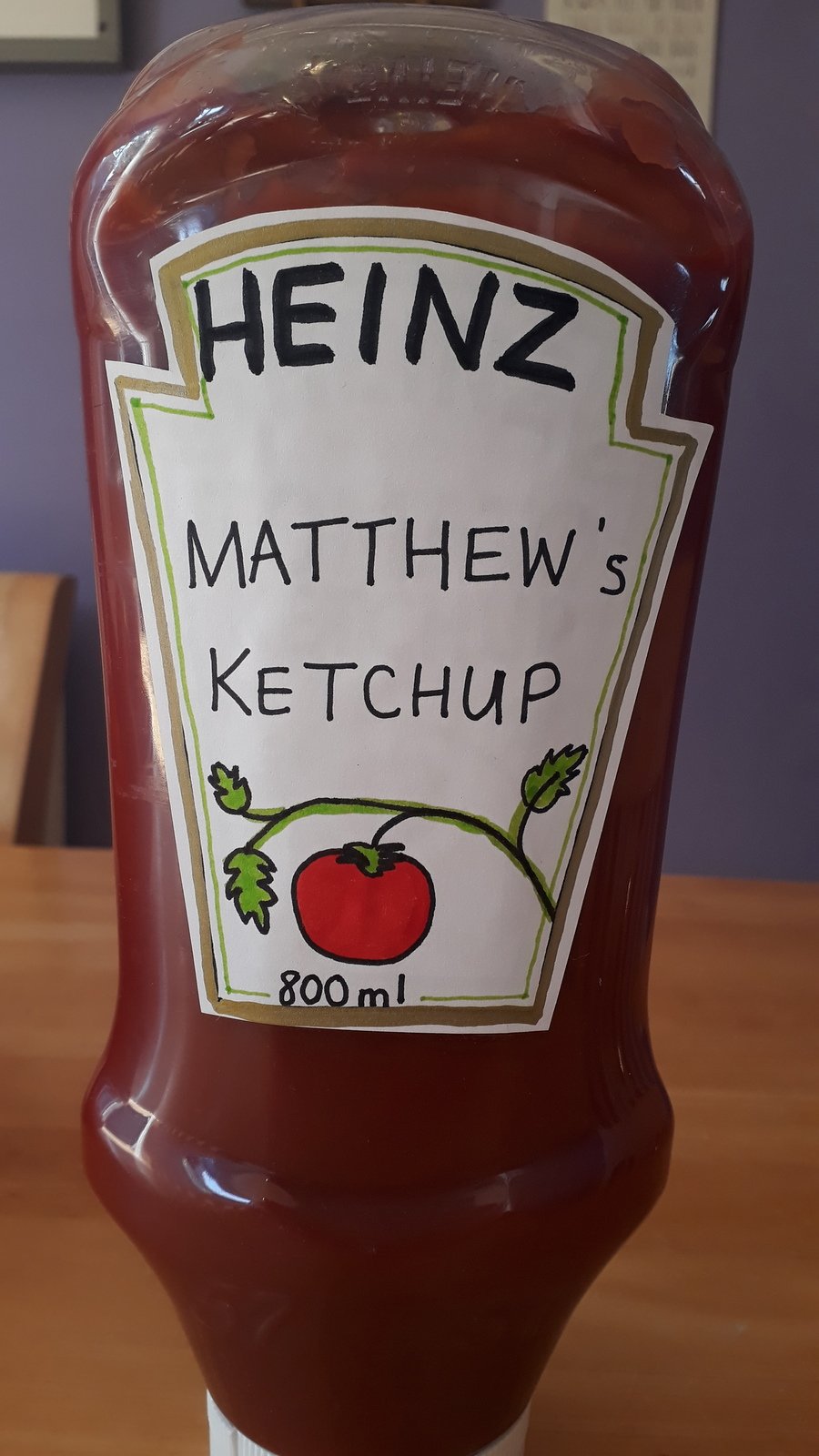 Guess what, I did something really silly this week. We were all going for a walk in the sunshine and I locked us out. It took ages for us to get back in and all the neighbours were laughing at us in their windows, although one did make me a cup of tea so that helped.
Right this week's activity:
I hope you enjoyed the Percy the Park Keeper story. You can have another listen here.
https://www.youtube.com/playlist?list=PLQbEKhAZTiHi7nSTfAY2nsyrqLqvurS5w
Then please can you draw pictures of the different animals and label them. Try to use the words legs, body, tail, head and ears. You can add any extra labels you want to. If you want to you can try and write a sentence about the animals too but you don't have to. Some of you might want to paint the animals or make collage pictures, it depends on what you have at your house!
How did you get on learning your times tables last week? Was it easy or tricky? Keep practising them until you know them off by heart. If you want a number challenge this week could you make me a poster showing me everything you know about the number 10 or 20. You can draw and write the number bonds eg 7 + 3. You could draw different coloured spots, 7 green ones and 3 red ones, you could draw 7 duck and 3 fish in a pond or think about the numicon shapes we use at school or use your imagination and come up with better ideas than me.
Wednesday 22nd April
Hi Year One, I hope you are all well, I am missing seeing your smiling faces.
Did you have a good Easter and eat lots and lots of chocolate? I know I did. In our house we have been busy enjoying the sunshine in the garden, we have planted some vegetables and we moved some plants but the cats decided to dig them up again!!! I made some biscuits to have with my cup of tea and I even painted the front door.
Right what activities are we going to tackle together this week?
Our new class book would have been Percy and the Park Keeper 'After the Storm' so I am going to make all of our activities over the next few weeks link to the book the best I can.
This week you could try and listen to the story, it is avaliable on youtube https://www.youtube.com/playlist?list=PLQbEKhAZTiHi7nSTfAY2nsyrqLqvurS5w Can you then please draw and write a story map showing me what happens in the story. You could also draw me a picture of Percy and tell me all the different things he gets upto.
This week we were going to start learning our 2, 5 and 10s timestables so if you want to try you can. Find things in your house and put them into groups of 2, 5 or 10 and then use your counting pattern to find the total. You are all brillant at counting in 2s, 5s and 10s. I know Mr Barnard has put some number activities on the maths page so don't forget to look at the subject pages too, I have put on a reading challenge.
Please let me know how you get on or if you need anything else, I loved seeing your work and photos before Easter.
See you soon I hope,
Mrs Hall
2nd April 2020
Hello Year One,
I hope you are all well, I am missing being at school and seeing all your smiling faces.
As well as being busy with school work and planning lots of exciting activities for when we get back. I have also been trying to keep fit and healthy by doing some on line fitness classes. Unfortunately the terrible twosome Bonnie and Clyde had different ideas. Have you been doing any exercise too?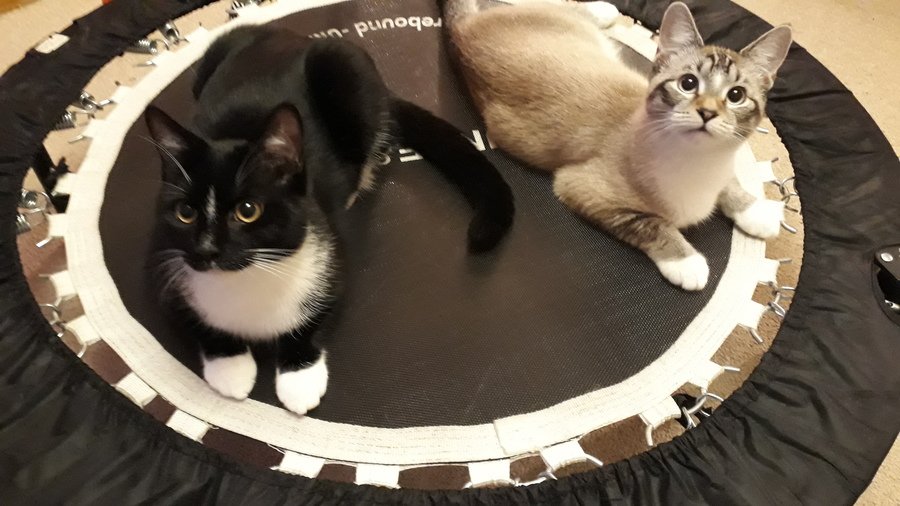 This week activity challenge is:
Imagine that Bunting the Cat from the Toy Museum (From our class book 'Lost in the Toy Museum) has come to visit you at your house. Draw and write what he would do while he was there.
Think about……
What would he see?
What would he do?
What games would he teach your toys?
What games would your toys teach him?
Don't forget your capital letters and full stops.
Here are the websites and apps suggested in the home learning pack for the first two weeks of closure. We will add to them after Easter but these are good for over the holidays if you want something to do. Don't forget to contact Mrs Eeley if you want your child set up on Nessy.
https://www.phonicsbloom.com/ Year 1 Phase 5
https://www.phonicsplay.co.uk/ (login March20 password home) Phase 5
https://spellingframe.co.uk/ select your year group and the pattern to practise
https://www.topmarks.co.uk/maths-games/hit-the-button number bonds, doubles, halves, x2, x5, x 10
https://www.topmarks.co.uk/maths-games/5-7-years/counting
https://www.oxfordowl.co.uk/for-home/kids-activities/fun-maths-games-and-activities/#maths-5-7
https://www.oxfordowl.co.uk/for-home/oxford-owl-videos/storyteller-videos--2/
https://www.bbc.co.uk/bitesize/levels/z3g4d2p
https://whiterosemaths.com/homelearning/ (online lessons to do together – one a day)
The CBeebies apps and Teach Your Monster to Read are brilliant and currently free on any device
Mrs Hall's email address is jhall@cashesgreen-pri.gloucs.sch.uk please contact her if you have any questions about your child's learning. She will reply as soon as she can during school hours in term time.
Information for Parents on Online Safety - this is extra important at this time.
As always, please supervise children using these links - a site may also contain links to other sites or clips so whilst these direct links are suitable there might be content a few clicks away that isn't.